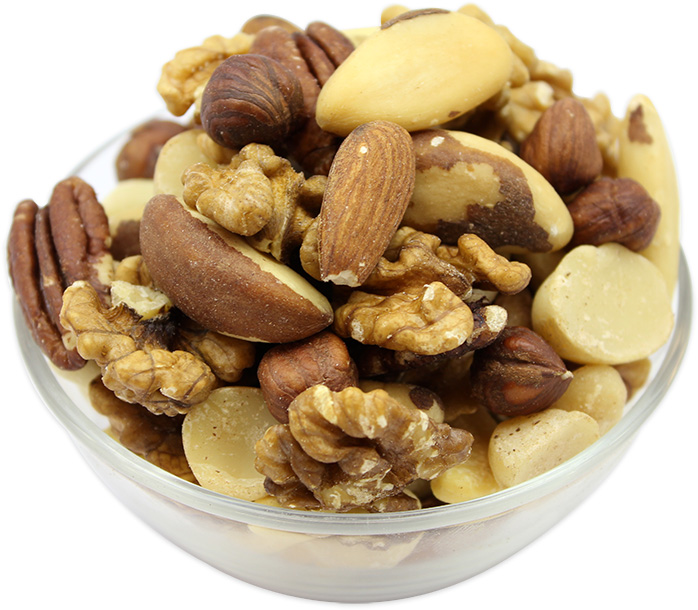 Mixed Nuts without Peanuts
A beautiful and tasty mix of nuts containing walnuts, almonds, cashews, hazelnuts, pistachios, macadamia, pecan and brazil.
Free shipping over £50
Big savings for larger quantities.
Spend £70 or more to get a 5% OFF Coupon
% This product is VAT free.
WARNING: even though the farmers and manufacturers put all the efforts to remove the seeds, stones or foreign objects from the product, some may remain, therefore, it is your responsibility to check the product before consumption. We will not be held responsible for any damage incurred by any seeds, stones or foreign objects found in the product. ALLERGENS: packed in an environment which also handles nuts, peanuts, sesame, seeds, gluten, soy, milk and sulphured fruits.
Patrick Cunningham - Verified Buyer
Date: 21.04.2021
Peter O Connor - Verified Buyer
Date: 09.02.2021
Nuala Black - Verified Buyer
Date: 11.10.2020
Max - Verified Buyer
Excellent, fresh nuts. I was surprised that their quality was hardly affected considering the variety of nuts. Apart from the cashew nuts which lose their crunch (which I don't think can be helped as I've seen that happen in other nut mixes) all the other nuts were actually better quality than I've found in products with only one type of nut. Plus, the proportions seem to be based primarily around preference as opposed to price.
Date: 02.10.2020
David Blackwell - Verified Buyer
First time I brought them there were very few macadamia nuts. Second purchase, good amount of macadamia nuts but not enough Brazil's. None the less, great nuts.
Date: 17.09.2020
Alex - Verified Buyer
Best nut mix for My breakfast, love it to nuts
Date: 27.07.2020
John Wood - Verified Buyer
Date: 17.06.2020
Hilary Bellamy - Verified Buyer
A delicious selection. Really fresh.
Date: 01.06.2020
Melanie - Verified Buyer
Date: 23.04.2020