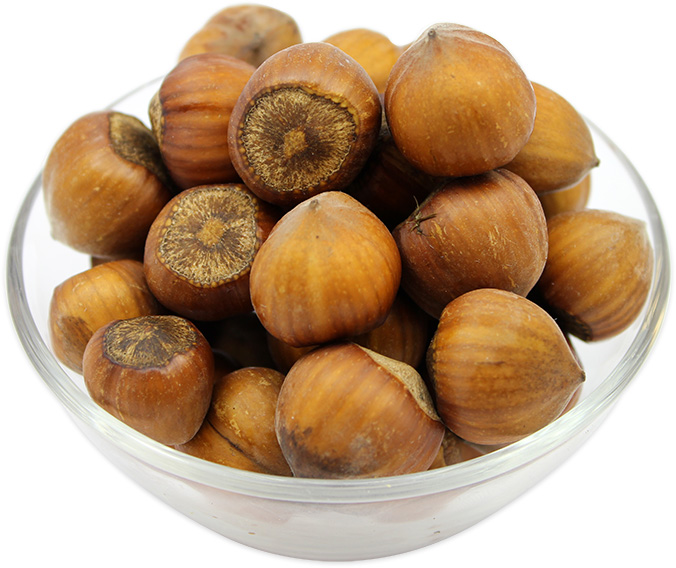 Hazelnuts in Shell
Their typical sweet taste is an indispensable part of many world-famous sweets and traditional Christmas candy, and they are loaded with beneficial substances for our health.
Buy hazelnuts in shells in small quantities or bulk. Our selection is available at retail or wholesale price. Hazelnuts in shells are available in our store for wholesale or retail for delivery or collection.
Packed from 1kg bags up to 50kg and delivered to you in two working days in the EU. Nuts in Bulk EU is the best place to buy hazelnuts in shells in bulk in the EU.
Free shipping over €50
Big savings for larger quantities.
Spend €70 or more to get a 5% OFF Coupon for your next order.
% This product is VAT free.
Select the size to add into cart.
ALLERGENS: packed in an environment that also handles nuts, peanuts, sesame, seeds, gluten, soy, milk and sulphured fruits.
Recipes and common usage
Snack for squirrels
Hazelnut tea
Decoration
Fiona Mccarthy - Verified Buyer
Happy with purchase but dispatch was slow
Date: 13.10.2022
Danny Oneill - Verified Buyer
Date: 06.10.2022
Wael - Verified Buyer
Date: 03.09.2022
Michelle - Verified Buyer
Nice enough hazelnuts, but I wouldn't necessarily miss them if I couldn't order them again. They taste a bit ...old.
Date: 20.01.2022
Brid - Verified Buyer
Squirrels love these hazelnuts
Date: 27.11.2021
Solveig - Verified Buyer
Our squirrels love these hazelnuts; they eat them as quickly as we put them out. It would be nice if they were cheaper, given the amount we get through...
Date: 28.01.2021
Cathy Griffin - Verified Buyer
Date: 24.01.2021
Hanne - Verified Buyer
Lovely and tasty. The garden's red squirrel agrees 100%.
Date: 16.01.2021
Des Moore - Verified Buyer
Nuts delivered in specified timeframe and all in good condition. Some variation in size and I would have liked to see country of origin on labelling. Purchased for recently arrived red squirrel who has indicated nuts are very much to his/her liking and they are supposed to be excellent quality assessors.
Date: 23.11.2020
S Webster - Verified Buyer
These seem to be very good quality and the grey squirrels love them - very pleased!
Date: 24.08.2020
Peter France - Verified Buyer
these are the nuts the gray squirrels love i have 5 just over the fence at the bottom of my back yard ive been here 6 years and i love them now and because i am very high risk of catching covid 19 the only wildlife i have seen over the lock down and very entertaining doing suicide jumps off the kitchen roof in to the nut trays and off the apple tree and i have a lot of birds here too the starlings bring all there babys here to feed every year they have all paid me back ten times over for the food just to get me through the lock down
Date: 26.06.2020
Stuart Davies - Verified Buyer
I use a lot of these with the red squirrel tribe here. Could do with being cheaper. Also buy banana chips, sunflower seeds and mixed fruit for the reds.
Date: 22.01.2020
Tony Johnson - Verified Buyer
Excellent service, nuts very good quality. Would buy from Nutsinbulk again.
Date: 19.01.2020
Heidi Hill - Verified Buyer
Nuts are of a good quality, but had a very strong spicy/peppery smell which actually made the nuts unusable for us - they were to feed squirrels.
Date: 13.11.2019
Stephen Oades - Verified Buyer
Very good, delivery was quick and the nuts are good quality, the price is higher than last time, but that is probably partly due to the £ falling due to Brexit. I am concerned that it will be more difficult to order these if the UK leaves without a deal
Date: 06.09.2019
Kathy Gorman - Verified Buyer
Great service and products. Thank you
Date: 26.07.2019
Bernie Keeney - Verified Buyer
Excellent service and really fast delivery. Thank you.
Date: 15.07.2019