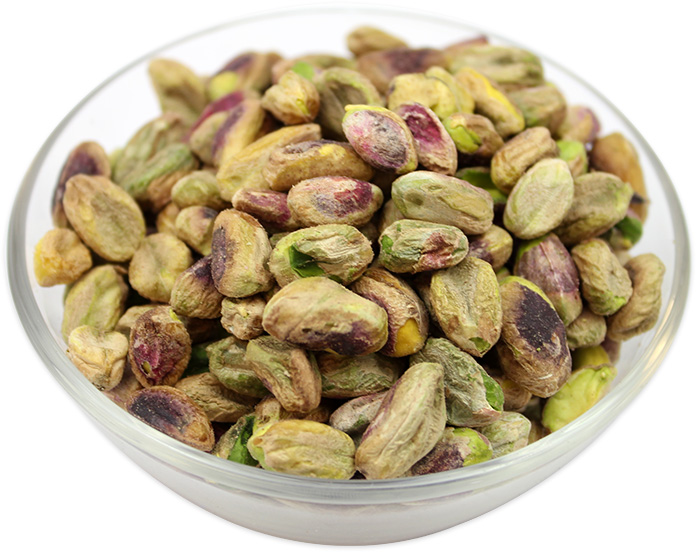 Raw Pistachios Kernels
Pistachios are the fruit of the pistachio plant, cultivated for more than 5 thousand years and originating in Asia. They are popular for their sweet flavor and beautiful green color, with which you can conjure up great dishes in the kitchen.
Buy pistachio kernels raw in small quantities or bulk. Our selection is available at retail or wholesale price. Pistachio kernels raw are available in our store for wholesale or retail for delivery or collection.
Packed from 500g bags up to 44kg and delivered to you in two working days in the EU. Nuts in Bulk EU is the best place to buy pistachio kernels raw in bulk in the EU.
Free shipping over €50
Big savings for larger quantities.
Spend €70 or more to get a 5% OFF Coupon for your next order.
% This product is VAT free.
Select the size to add into cart.
ALLERGENS: packed in an environment that also handles nuts, peanuts, sesame, seeds, gluten, soy, milk and sulphured fruits.
Recipes and common usage
Quick snack
Baking
Decorating your meals
Cakes
Desserts
Muffins
Yvan Masson - Verified Buyer
A bit disappointed by the quality of pistachios: I received my 500g bag of Pistachios Kernels Raw 7 days after I ordered them and the nuts were a little soggy. I also ordered a bag of mixed nuts and although the other nuts were fine, the pistachios in it are also a little soggy.
Date: 02.03.2023
Maria Doyle - Verified Buyer
Date: 09.09.2021
N - Verified Buyer
Date: 27.07.2021
Anna - Verified Buyer
Excellent quality, used the pistachios for baking, v well priced.
Date: 24.08.2020
Guido Ceruti - Verified Buyer
Date: 02.07.2020
Julie Mc - Verified Buyer
Great product, well packaged & super fast delivery. Highly recommended :)
Date: 22.06.2020
Anne Brooks - Verified Buyer
Date: 10.04.2020
Michael Brown - Verified Buyer
Date: 19.11.2019
Ss Cambridge - Verified Buyer
Date: 10.10.2019
Rhoda Kirwan - Verified Buyer
Date: 07.10.2019
W K - Verified Buyer
I am able to confidently say that the Pistachios are of the best quality of all products I have ever bought from Nutsinbulk. The pistachios kernels are large and of high quality.
Date: 01.09.2019
Ana - Verified Buyer
Date: 24.08.2019