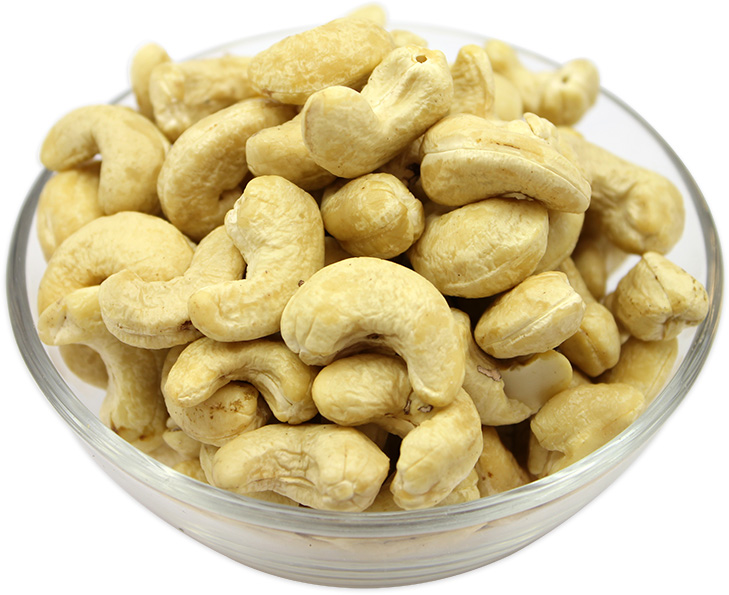 Organic Raw Whole Cashew Nuts
The cashew tree is native to Brazil's Amazon rain forest. It spread all over the world by Portuguese explorers and today, it is cultivated commercially in Brazil, Vietnam, India and in many African countries. Delicately sweet yet crunchy and delicious cashew nut is packed with energy, antioxidants, minerals and vitamins that are essential for robust health. Cashew is one of the popular ingredients in sweet as well savory dishes worldwide.
Health benefits: Cashew nuts keep your heart healthy, they are rich in good fats and have zero cholesterol. They also make you body stronger, they are rich in magnesium which is required for strong bones. Furthermore, they control your blood pressure levels thanks to a low rate in sodium and a high rate in potassium which mean a stable blood pressure. Cashew nuts reduce your risk of cancer, they contain a lot of minerals and vitamins which reduce the risk of cancer. So, they play a key role in numerous body functions, they contain a high copper content which play an important role in numerous body functions.
Free shipping over £50
Big savings for larger quantities.
Spend £70 or more to get a 5% OFF Coupon
% This product is VAT free.
WARNING: even though the farmers and manufacturers put all the efforts to remove the seeds, stones or foreign objects from the product, some may remain, therefore, it is your responsibility to check the product before consumption. We will not be held responsible for any damage incurred by any seeds, stones or foreign objects found in the product. ALLERGENS: packed in an environment which also handles nuts, peanuts, sesame, seeds, gluten, soy, milk and sulphured fruits.
Tim Nickerson - Verified Buyer
Date: 22.04.2021
Jessica Nwigwe - Verified Buyer
Whole Organic Cashew nut is good but broken organic Cashew nut, not good so buy whole not broken.
Date: 28.01.2021
Brian Derby - Verified Buyer
Cashews were softer than the usual ones I buy in Lidl. Not sure why as the use by date is late 2021. Perhaps someone from the company can respond.
Date: 25.01.2021
Kelly Cs Johnson - Verified Buyer
Delighted to have found this store and the nuts are delicious
Date: 08.01.2021
Nika - Verified Buyer
Date: 02.11.2020
Nicki Petcher - Verified Buyer
These are getting eaten very fast. Brilliant price as excellent fresh tasty high quality cashews.
Date: 01.07.2020
Sarah Boyle - Verified Buyer
Great taste, great value!
Date: 22.04.2020
Angela Rice - Verified Buyer
Date: 13.08.2019