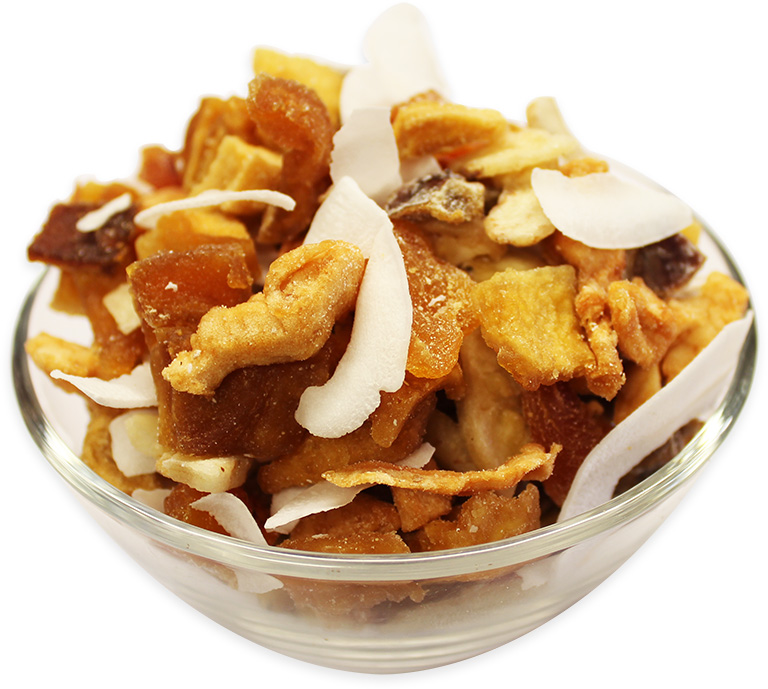 The Best Selection of Mixed Chopped Dried Fruits
Dried fruit is fruit from which the majority of the original water content has been removed either naturally or through sun drying. Dried fruit has a long tradition of use dating back to the fourth millennium BC in Mesopotamia, and is prized because of its sweet taste, nutritive value and long shelf life.
Buy our home selection of mixed chopped dried fruits(Diced Apple, Banana Chips, Coconuts chips, Diced Dates, Diced Papaya, Diced Figs, Diced Apricots, Diced Prunes) in small quantities or bulk. Our selection is available at retail or wholesale price. Mixed chopped dried fruits are available in our store for wholesale or retail for delivery or collection.
Packed from 500g bags up to 10kg and delivered to you in two working days in Ireland. Nuts in Bulk Ireland is the best place to buy mixed 9 chopped dried fruits in bulk in the EU.
Free shipping over €50
Big savings for larger quantities.
Spend €70 or more to get a 5% OFF Coupon for your next order.
% This product is VAT free.
Select the size to add into cart.
ALLERGENS: packed in an environment that also handles nuts, peanuts, sesame, seeds, gluten, soy, milk and sulphured fruits.
Recipes and common usage
Breakfasts
Baking
Cooking
Oatmeal with dried fruits
Pudding
Christmas cake
Granola
Anne Brennan - Verified Buyer
Date: 30.08.2021
Julia - Verified Buyer
Date: 03.12.2020
Anonymous - Verified Buyer
All my products were sealed and clearly labelled very nice at arrival, only in the packet of mixed chopped dried fruit 500g we have found a hair at the bottom of the bag , we did not contact the company as we have already opened the bag and saw the hair afterwards, we wouldn think they believe us. I have disposed the bag due to foreign object contamination, all other products are delicious!
Date: 01.08.2020
Guido Ceruti - Verified Buyer
Date: 02.07.2020
David C - Verified Buyer
Date: 14.05.2020
Angela Rice - Verified Buyer
Date: 13.08.2019