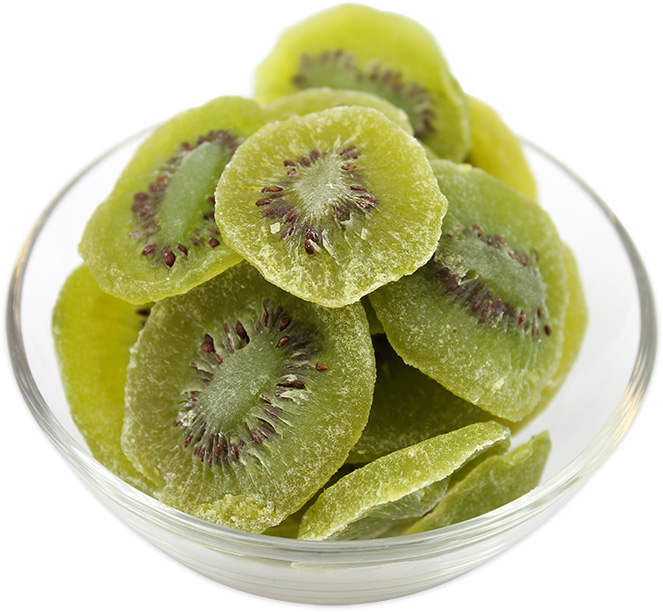 Dried Kiwi Slices
Native from New Zealand, the fruit has a soft texture and a sweet but unique flavor, and today is a commercial crop in several countries, such as Italy, New Zealand, Chile, Greece, and France. The kiwi is a very low caloric fruit. It contains fmany vitamins and minerals, including vitamins C, provitamin A, vitamins B and K, calcium, iron.
Health benefits: The antioxidants it contains reduce damage to DNA, that would be one of the possible causes of cancer and the onset of cardiovascular disease. Its fiber concentration makes it an ally against constipation. The kiwi has healing and antibacterial, making it effective in the treatment of ulcers.
Free shipping over £50
Big savings for larger quantities.
Spend £70 or more to get a 5% OFF Coupon for your next order.
% This product is VAT free.
WARNING: even though the farmers and manufacturers put all the efforts to remove the seeds, stones or foreign objects from the product, some may remain, therefore, it is your responsibility to check the product before consumption or production. We will not be held responsible for any damage incurred by any seeds, stones or foreign objects found in the product. ALLERGENS: packed in an environment that also handles nuts, peanuts, sesame, seeds, gluten, soy, milk and sulphured fruits.
Mark White - Verified Buyer
Delicious kiwi pieces. I picked up a taste for these while travelling in india and these are every bit as tasty!
Date: 10.08.2020
Laura Andrejauskaite - Verified Buyer
Date: 17.04.2020
Norman Lowings - Verified Buyer
Date: 08.04.2020
Dovile - Verified Buyer
Date: 04.10.2019