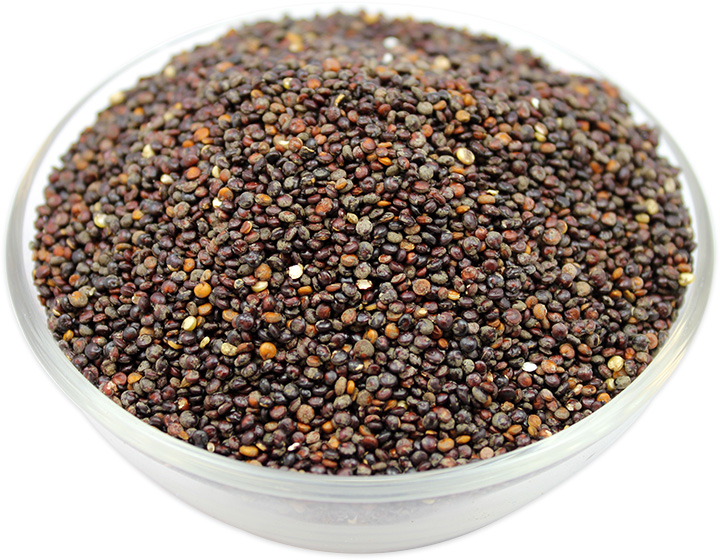 Black Quinoa Seeds
The quinoa plant reaches about 3-6 feet in height and prefers well-drained, can thrive well under tough environmental conditions and alkaline (salty) soil. Quinoa is an incredibly nutritious "grain-like seed" obtained from goosefoot family plant native to the highland plains of South-American Andes region. The study believed quinoa as the mother of grain (chisaya mama)", since eating it as food would confer they prolonged healthy life.
Health benefits, of quinoa 100g quinoa seeds (grains), carry 368 calories. Its grains are moderate sources of energy, and their calorie content may be matched to that of some of the major cereals such as wheat, maize, rice, and that of pulses like chickpea, mung bean, and cowpea.
USES, Add to soups. Quinoa flour can be added to cookies or muffin recipes. Flakes are ready to eat (yogurt, salad) Quinoa is great to use in tabouli, serving as a delicious (gluten-free) substitute for the bulgar wheat with which this Middle Eastern dish is usually made. Use similar to rice. Quinoa pasta is higher in protein than wheat pasta.
Free shipping over £50
Big savings for larger quantities.
Spend £70 or more to get a 5% OFF Coupon for your next order.
% This product is VAT free.
WARNING: even though the farmers and manufacturers put all the efforts to remove the seeds, stones or foreign objects from the product, some may remain, therefore, it is your responsibility to check the product before consumption or production. We will not be held responsible for any damage incurred by any seeds, stones or foreign objects found in the product. ALLERGENS: packed in an environment that also handles nuts, peanuts, sesame, seeds, gluten, soy, milk and sulphured fruits.